Polka Dot Triangle Bandana
Is your wardrobe ready for spring and summer? Add a pop of life to your outfit with this Polka Dot Triangle Bandana with a frayed edge! You'll love its versatility as it can be worn in so many different ways: as a skirt, as a top, or wrapped around the handle of a bag. It's truly a timeless accessory that won't go out of style.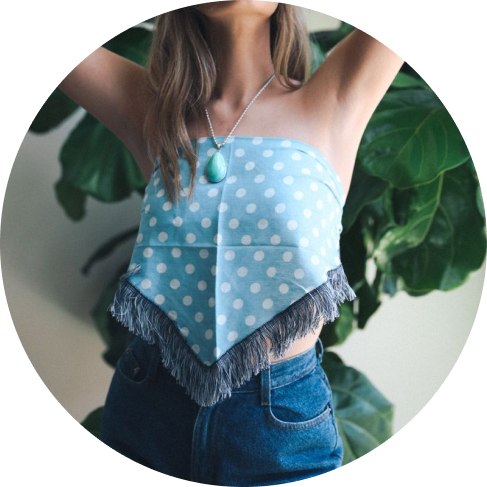 #1 Must-have in your wardrobe
How to wear the Polka Dot Triangle Bandana
As a classic neck scarf
Simply wrap your bandana around your neck, let it drape down your chest, and loosely tie the leftover strands into a delicate knot at the back. This will create a quick, casual statement.
As a top
The '00s have returned, and with them comes the scarf top. Instead of investing in a brand new item, you can create this look by wrapping a large enough bandana around your upper body.
As a waist accessory
Loop the scarf around your waist, and tie it in a knot or bow to add some texture to a simple ensemble! It is great for more relaxed, weekend wear or for covering up your bathing suit.
As a bag accent
If you feel like your outfit is missing something, try tying a bandana to your handbag. It's such a fun way to add a pop of color to an outfit without having to try too hard!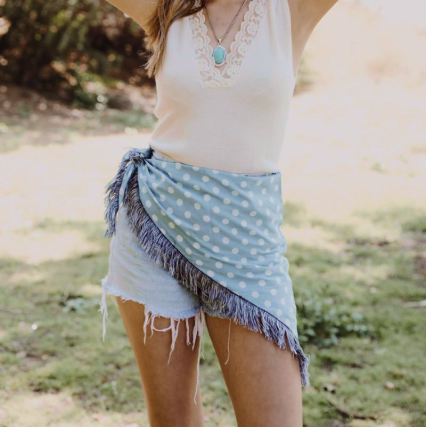 Polka Dot Triangle Bandana details
The Polka Dot Triangle Bandana is crafted with 100% organic cotton. It is breathable and friendly to your skin, offering you extreme comfort. The beautiful pattern and frayed edge tick all the boxes of elegance. The center drop measures 20″. The maximum width measures at 50″. The scarf is easy care for – just hand wash it and dry flat.